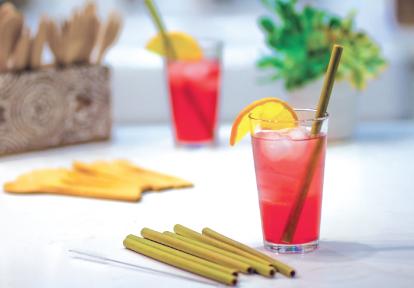 Eco-Friendly Reusable Bamboo Drinking Straws
Reduce your plastic consumption and carbon footprint with Totally Bamboo's reusable bamboo drinking straws. These straws are made from a hollowed-out piece of a bamboo stalk, which is known for its strength. You can slip them in a travel pouch or your bag, and enjoy any beverage without increasing plastic waste.
Unlike standard plastic straws, our products are easy to wash, making them perfect for use at home or outdoors.
All you need to do is to soak or shake them clean inside a jar of soapy water or scrub them with a pipe cleaner. Our bamboo straws are also dishwasher safe for easier cleaning at home.

Why Use Reusable Bamboo Straws?
Standard plastic straws are environmentally harmful in every stage of their production. They're made of various chemicals, and their factories spew petrochemical fumes during manufacturing. Worst of all, plastic straws are used only once before becoming waste. Every day, untold millions of straws are used once and disposed.
Bamboo is one of the most versatile and sustainable plants in the world. These plants have a stunning variety of uses, from construction support to chopsticks, and now drinking straws. Because of their flexibility and strength, bamboo straws can be used many more times than plastic straws.
Switching to bamboo straws reduces your carbon footprint and prevents another piece of plastic from ending up in the ecosystem.